In March last year, BRUGAROLAS began participating in a new R&D project within the CDTI's CIEN strategic programme. It is the second project within this programme in which our company has participated.
The project is entitled STEFAN "Tribological solutions in the railway sector" and aims to reduce noise and tribological wear in metropolitan railway applications.
It is an ambitious 4-year R&D project (2020 to 2023) in which companies of recognised prestige in the railway world participate:
For our part, at BRUGAROLAS, SA, we are developing advanced greases for the wheel-track system that are biodegradable and have a low friction coefficient, noise-reducing lubricants and greases for train wheel bearings.
The basic objective of the project is to optimise the critical tribological systems in rail transport through the development of new components for the wheel-track and axle box bearing systems; materials, lubricants, track solutions, etc. The project has been proposed in a multidisciplinary dimension, encompassing not only tribology, but also sensor systems, smart maintenance, IoT (Internet of Things), etc.; all of which is implemented with the BIM (Building Information Modelling) methodology.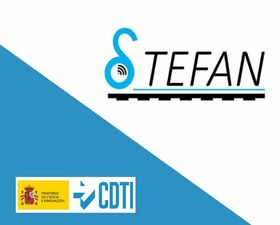 The STEFAN project has a global budget of €5,175,510.